If you have short nails, there's no need to feel left out. Nails can be just as beautiful on short nails as they are on long ones.
Nail designs for short nails are easy to create and can be done by yourself at home.
The key to having good-looking nails is maintaining them properly and making sure they're healthy. This includes keeping them trimmed, filing them evenly, and keeping them clean.
You don't necessarily have to go to the salon every time you want a manicure or pedicure. Try these simple nail designs for short nails at home instead!
Nail designs for short nails can be a challenge, but they don't have to be. If you're looking for ways to jazz up your short nails, these are some great ideas.
French manicure
A classic look, the French manicure is one that's always in style. The trick is to make sure you're getting a good quality polish — one that will last and not chip as quickly as some others do — so that you don't have to keep redoing your nails every week.
Paint-on nail art
If you want something a little more adventurous than a solid color or French manicure, but don't want to invest in pricey nail art tools, consider using a paint-on nail art kit instead. These come in all sorts of different designs and colors, so it's easy to find something that works with your outfit or mood on any given day!
Nail stickers
Another easy way to jazz up your nails without having to spend time painting them is by using nail stickers instead of polish itself. These are super easy to apply and take off, too — just peel 'em off when they start looking old or worn down and reapply them again!
Here's a list of 40 short nail ideas that you'll love.
---
Cloudy Light Pink Nails
---
Nude Short Nails With Marbles
---
Pink Nails With Peach Swipes
---
Nude Nails With Wavy White Lines
---
Brown Nails With Wavy Lines
---
Pink and Orange Wavy Nail Design
---
Short Leopard Almond Nails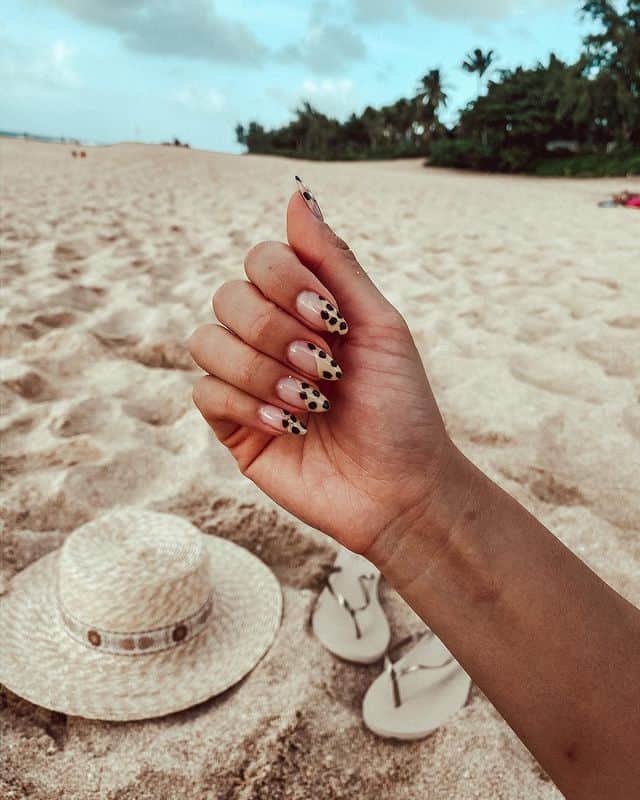 ---
Short Nail Design With Glitter
---
Diagonal French Tips Gradient Nails
---
Lavendar Nails With Glitters
---
Blush Nails With Pink French Tips
---
Short White Nails
---
Multi-Colored Nails
---
Nails With White French Tips
---
White Nails With Sage Leaf Design
---
Nails With White Flower Design
---
Cute Watermelon Nail Art
---
Short Gradient Brown Nails
---
White and Grey Nails With Leaf Design
---
Short Red Nails With Heart
---
Short Nails With Colored French Tips
---
Nude Square Tip Nails
---
Blue Pink Purple Marble Nails
---
Navy and Pink Nails
---
Emerald Green Nails
---
Orange and Brown Pattern
---
Nude Nails and Yellow Nails
---
Green French Tips
---
Lilac French Tips and Lines
---
Almond Nails With Sage Green Lines
---
Pink and Tan Nails
---
Pink and Blue Nails With Lines
---
Tortoise Shell French Tips
---
Lilac and Peach Nails
---
Short Multi-Colored Nails
---
Blush Nails with Black Tips
---
Green Lilac Orange Ombre Nails
---
Short Nails With Flowers
---
Mint Green Nails With Lines
---
Grey and White Gradient Nails